Microneedle Derma Roller Set
Sale price
$99.99
Regular price
$199.00
0.5mm roller, growth factor, postoperative repair mask
Just roll with it.
Generate new collagen and skin tissue for smoother, firmer, more toned skin. This derma roller technology minimizes the appearance of stretch marks, acne scars, uneven skin tone, scarring, and large pores.
Our roller is made with titanium 540 0.25mm fine needles. Essentially, these microneedles penetrate the skin to stimulate collagen and promote healing in the skin. When done properly and at the right intervals, your skin will look smoother, healthier, and ageless over time. Who doesn't want that?
Our Microneedling Set includes a derma roller and our Hyaluronic Acid serum that, when paired with the derma roller, initiates the repair process almost immediately to soften wrinkles, fine lines, and scars.
How to Use Derma Roller 0.5mm ?
Following the proper technique of derma rolling can give you a desirable result when using a 0.5 microneedle.
The key to having fast result is by going through all the instructions, carefully following them, and committing you to do it every week.
If you want to see the changes to your skin after a few sessions (or even after your first session), kindly learn and follow these steps:
Step #1. Clean & Disinfect Derma Rollers. 
From now on, keep a regular stock of 70%-99% rubbing or Isopropyl. You MUST disinfect your derma rollers by soaking them into the alcohol for about 5 to 10 minutes. Check if there are rusts on the micro needles. If you have been using them for a long time, please throw it away and get a new one to avoid infection.
Step #2. Cleanse Your Face and/or Body. 
Before you derma roll, cleanse your face to remove residues, dirt and makeup that can irritate the skin when the micro needles get in contact with your skin. Make sure you don't have any active breakouts. Avoid scrubbing your skin or irritating it with exfoliants to avoid allergic reactions when derma rolling.
Step #3. Dermaroll Section by Section. 
If you are going to derma roll your whole face, divide the area into small sections of about a quarter of your palm size.
It is always recommended to derma roll section by section to fully cover the desired area to be treated. For each section, complete derma rolling in 4 different directions before you go to another section.
Here's how the diagram below works- derma roll up and down 4 times, then lift the roller an do left and right 4 times, lift again followed by diagonally top right to bottom left 4 times and lastly diagonally top left to bottom right 4 times.
Do the same steps as you go to another direction using the same pressure. Please roll with caution.
Step #4. Do not wash your face right away. 
After derma rolling, you must put a serum or moisturizer to calm and relax your face. If you have a dry or sensitive skin, it is highly suggested to refrain from using toners and cream with peeling effects after the treatment.
The other additional benefit of dermarolling is that it can help to boost the absorption of skincare products up to 3000% more therefore it is highly recommended to apply a serum or moisturizer within the first 15 minutes after dermarolling.
Step #5. Clean & store your derma roller. 
Clean your derma roller 0.5mm by pouring on an alcohol again, and then leave it to air dry in its original container for at least 1 hour before you close the storage container.
Do not leave it on your sinks or dresser to avoid germs or bacteria from getting into the micro needles and the roller head.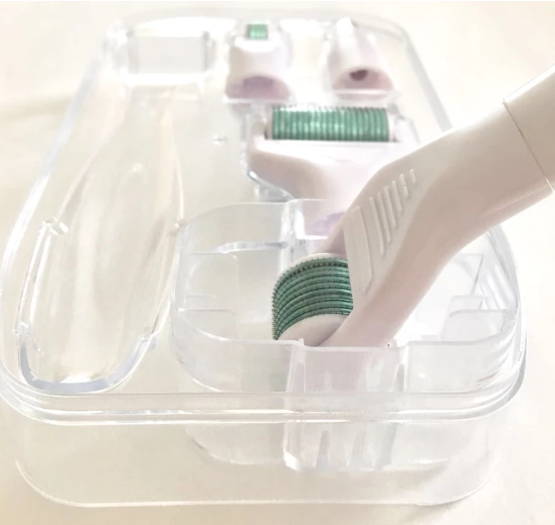 0.5 mm Derma Roller How Often?
Derma Roller 0.5mm can be used once a week.

It is important to keep a regular schedule if you want to see visible results in little time. We recommend you to derma roll once a week on the same day of each week for best results.

It is also recommended to derma roll at night just before you sleep so that your skin can have 6 – 8 hours of undisturbed period to heal and rejuvenate.

For first time users, you can start with once every 2 weeks with day breaks of at least 14 days after each treatment.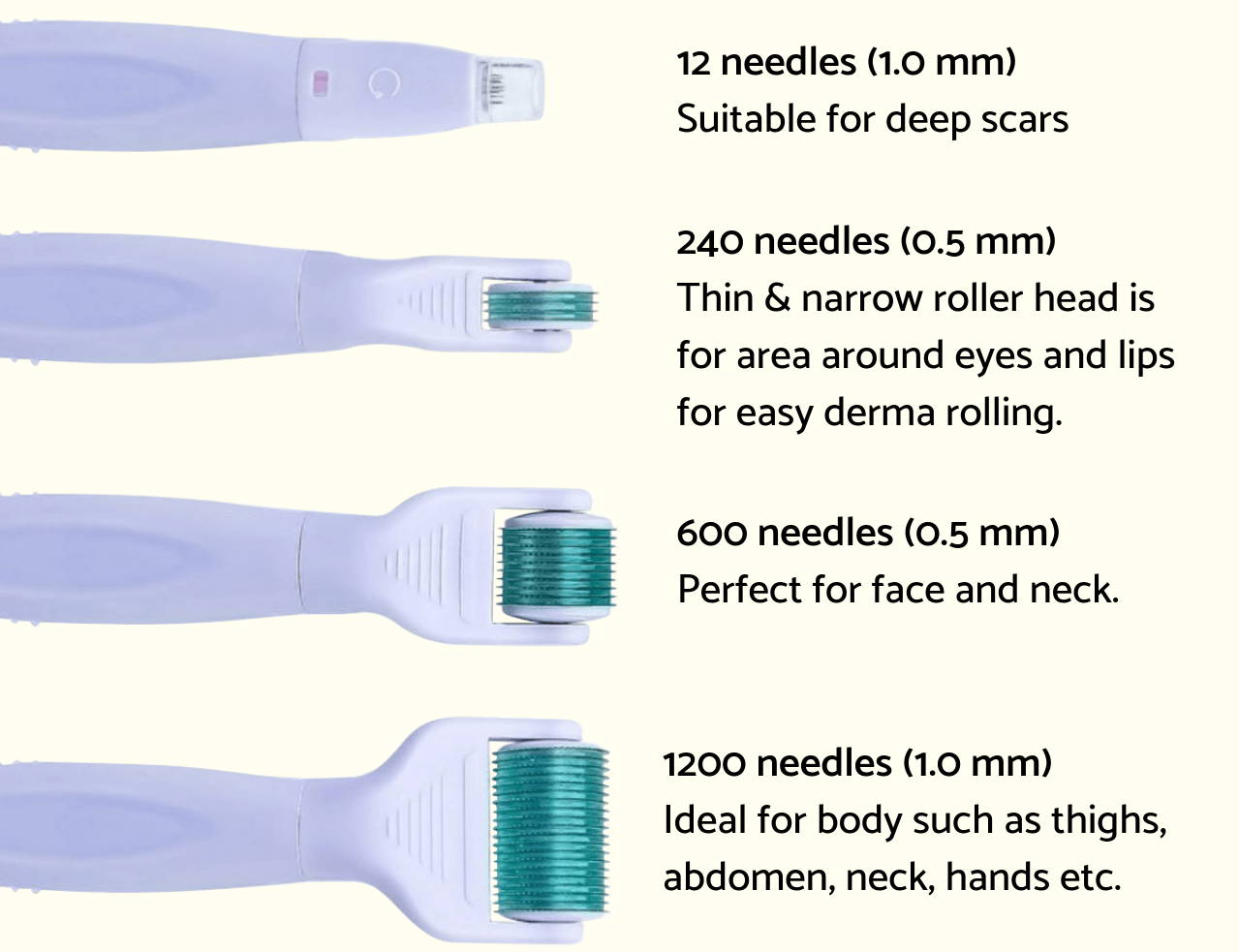 The reason is that different parts of our face and body requires different derma roller size and needle for the best results. 
---
Share this Product